Description
The IMAK® Active Gloves help encourage a healthy lifestyle by relieving aches, pains, and stiffness associated with hand pain. The unique design provides mild compression for warmth and helps increase circulation and promote healing. The Active Gloves are made of a soft breathable cotton material. The open fingertips and anti-slip design allow full freedom to feel, touch and grip all day.
Key Benefits: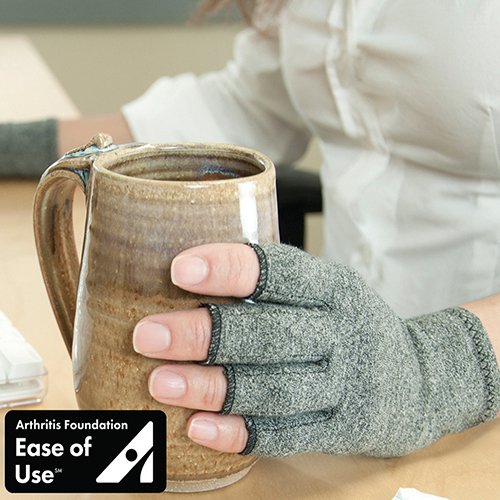 Provides mild compression to enhance blood circulation

Open fingertips allow freedom to feel, touch, and grip

Cotton material allows skin to breathe and keeps hands dry

Comfortable all day and night

Anti-slip design on fingers and palm provides excellent grip



Read about "What You Need to Know about Arthritis" by our expert.
Due to hygiene reasons, this item is not returnable.
View All
Close
5 Reviews
Imak Active glove for arthritis

I use these for driving or working in the garden. I found them helpful to reduce the pain of my arthritis in my hands. Need to wash them as the get loose and replace them. I only find the edges around the singer tips annoying as they irritate due to the fact they are loose.

Imak Active glove for arthritis

Fabulous I use both kinds. The plain ones to sleep with at night and the ones with bubbles for active jobs such as driving, housework and gardening. The help the pain in my hands. Have bought several pairs over the years. Wash as need, do not put them in the dryer.

Good buy for me!! I enjoy wearing them.

I found the gloves to be comfortable, supportive, and not bothersome to wear while I was doing household chores. I would definitely buy again.

I have found these Gloves to be amazing! They do not interfere with activities, cleaning, driving, etc. Very comfortable and washes in the sink and dry overnight.

Good, washable material that provides support to the wrist and fingers. Not so tight so as to be uncomfortable, the glove provides finger movements to perform day-to-day tasks. I am very happy with this purchase.
View All
Close
Additional Information
| | |
| --- | --- |
| Taxable: | Yes |
| gender: | Unisex |
| AC3148: | 6 |
| AC3149: | 6 |
| AC3150: | 1 |
View All
Close